Easy Tips To Learning The Guitar
Would you like to learn to play guitar? Do you want to assist one of your loved ones that is interested in learning? In order to get the best experience learning to play, you need to learn a few things to help. These tips will help you get started.
It will take time to realize your abilities. Working slowly and steadily will bring you success. Set aside some time each day so you can practice and after a while you'll start to learn and memorize the techniques you need to know.
See if you can take lessons from a teacher. It can be better to have someone watch you playing a guitar, even though you can learn on your own. They can help you with your style and show you ways to improve. You will also be able to get any questions you have answered.
Keep your motivation high. Creating both short and long-term goals can help you keep playing guitar. If you have a friend who wants to learn, practice with them. Reward yourself at the end of each week that you have successfully practice every day. It will take a lot of hard work.
When you begin playing the guitar, make sure that you have access to a great instrument you can practice on. If you're not able to buy your own guitar, you may be able to rent or borrow one from someone. A good guitar will help you get a good sound while you are learning.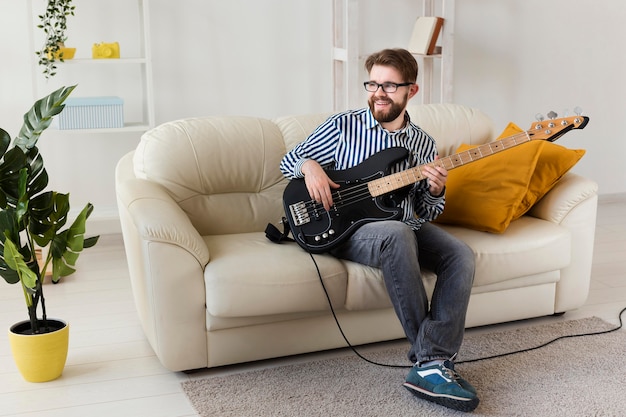 If you are learning to play the guitar, build calluses on the fingertips. If you do not get calluses, playing will be painful. It may take a while to develop them, but if you practice often this will make them appear faster. There are products available that help them develop.
Learn the pieces of a guitar and what each does. Knowing proper terminology can help you read teaching materials better. It will also help you be an intelligent musician.
Figure out how to play in different keys. Learning how to play the same song in various keys can really help you to get a handle on different chords. It generally also gives you a better understanding of the music in general. When you better understand music, you can become a better musician.
A metronome is a good device to buy. You can improve your ability to keep a rhythm and keep your timing on target with a metronome. They help ensure that you are not floundering to keep pace. You will find that a metronome will make you a much better musician, and learning new music will be a breeze.
Start slow. Take fast songs slowly. It's important to learn the song itself first. So, go slowly as you master the notes before working on your speed. With only a focus on speed, your frustration with mistakes will be increased. Begin slowly, get to know the whole song, and then work on that lightening speed.
Practice your strum. This can help you learn chords and after you have learned the chords, it will be easier to combine them. It also helps when it comes to switching chords smoothly. Spend sufficient time learning to strum, as it has numerous applications.
After buying a guitar and starting to practice, maintain the guitar! Learn how to clean and maintain it, as well as just how often you need to do both, so that you'll get many good years from the guitar. Learn how to change its strings and tune it as well. You will have an instrument you can always be proud of!
When learning guitar, buy some instrumental guitar music for some motivation. When you hear how the professionals play, it can give you inspiration to do better. Listen to the different strumming and playing styles and see which one you would like to focus on. Once you find your best style, practice will seem like more fun.
When using an amp, it is important for you to have headphones. An amp isn't necessary, but some people prefer to play with one. This may not be worth it in the long run though. Few people live in places where the extra noise will be appreciated. When noise is a concern, get yourself the headphones and use them.
Play a duet with another person. One of you should play the melody, while the other plays the chords. This is fun when approaching your guitar techniques in a unique way. In addition, since you are playing along with someone, you are better able to establish a consistent rhythm and tempo.
Learn to play your guitar with some friends. See if any loved ones wish to learn to play guitar with you. Having others around you who share your interest makes it more likely that you stick with the task at hand. You will serve as mutual motivation.
Know how to change the strings on your guitar. You can pick it up through Internet videos. Changing strings is an essential element to playing a guitar. While replacing a string when necessary is not hard, it is definitely important.
When you consider learning guitar, also consider the type of music you hope to play. The style you want to play will determine the type of guitar you need. Contemporary rock music uses electric guitars while folk music often uses acoustic guitars.
Reading music and playing an instrument is rewarding. However, you also have to try learning to play by your ear. That involves discovering how to play a piece simply by its sound. Learning to play by ear will better your skills overall and help you be able to play more music.
Buy some guitar training software and learn via your computer. You can even connect a computer to your guitar with an input device. You can follow the computerized lessons and play along. This will help you find a balance between books and instructors.
Nobody is too young or too old to learn to play the guitar. Practice as often as possible so you can develop your skills. As you learn more about the guitar, you're going to play better. Follow these tips to learn the basics of guitar playing and you'll soon impress all your friends.